See us for French & European Vintage, European & English Collectibles, Art Deco & European Style Decor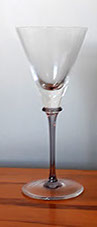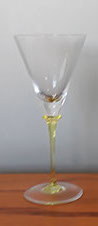 French Crystal
Martini Glasses
French Crystal Martini Glasses
(by French manufacturer Daum)
Beautiful, delicate French crystal glasses. They would make a lovely gift for Christmas or for a special occasion.
Choose from lime green or dark wine coloured stems.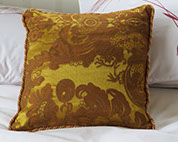 Gold Brocade Cushion
NZ$ 45.00
A brocade cushion that would look great in a French classical or Hampton style home.
Size 40 x 40 cm, insert included.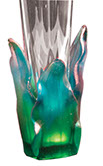 French Crystal Vase, with leave patterned
base in rich vibrant blues and greens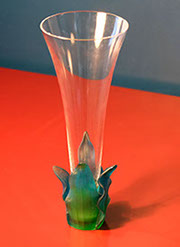 One of the loveliest little vases around made from French Daum crystal with a clear stem and a lovely aqua colored base, it would look gorgeous with a bouquet of spring flowers.
This would make a lovely gift for someone special, an engagement or a lovely wedding gift.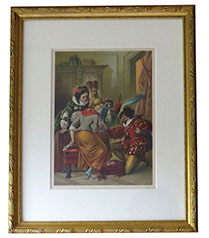 A delightful antique French print of Cinderella and Prince Charming set
in a new gilt edged frame.
The print was found in France and
we had it professionally framed.
In excellent condition.
A4 size approx)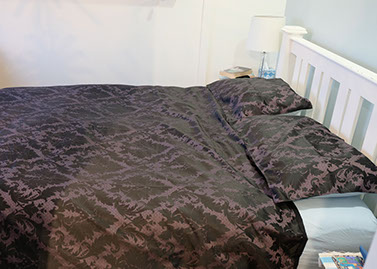 Vintage Queen size Duvet Set
Toulose Lautrec is a famous French artist. We visited his museum in Albi, France and obtained two vintage posters of his most famous art work.
Size: 50x70cm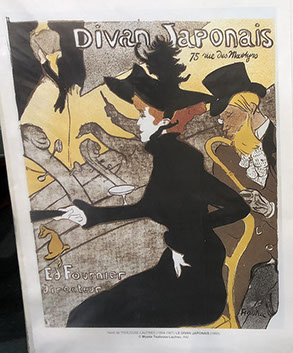 Toulose Lautrec Poster
Divan Japonais
NZ$ 65.00
RETURN TO TOP OF PAGE